The following code snippet gives me an unused type var warning:
module ExistentialQualification2 where

import Prelude
import Data.Newtype (class Newtype)
import Data.Typeclass (tnil, using, (@>))
import Effect (Effect)
import Effect.Class.Console (log)

newtype ShowMe a
  = ShowMe (a -> String)

derive instance newtypeShowMe :: Newtype (ShowMe a) _

existentialQualification2 :: forall x. Effect Unit
existentialQualification2 = do
  let
    myShow =
      ShowMe (\(i :: x -> x) -> "Yo! Neda!")
        @> ShowMe (\i -> "Not " <> (show :: Boolean -> String) (not i))
        @> tnil
  log $ using myShow (\(x :: x) -> x)
  log $ using myShow false

You can see it here in the IDE.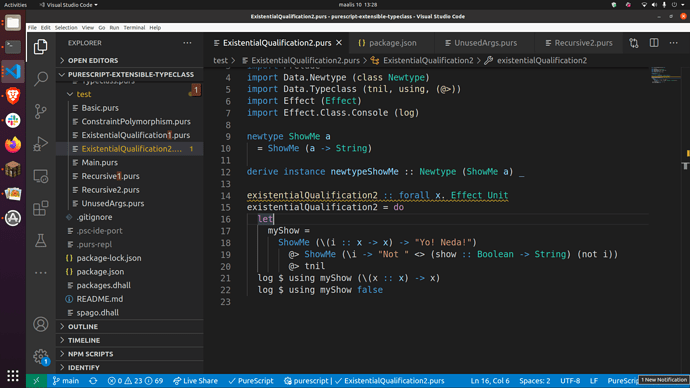 And the specific warning: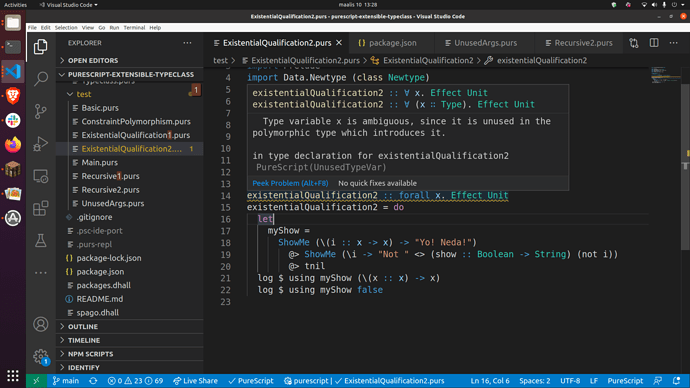 But the code won't compile without the type variable. The output, when compiled, works as expected:
Yo! Neda!
Not true

I'm wondering if there is a way to suppress and/or change the warning when the type variable is used? Or is there something I'm missing and is it possible not to use the type variable?