Can somebody explain how this came about? Thanks.
I always assumed that it was (more or less) a rearranged version of the bind operator, >>=
I think that if you stare long enough at the PS logo you can start to see a nearly straight path to the programming heaven:

On the other hand if you rotate your screen or the head around then you can clearly see the future - "PureScript all the way down":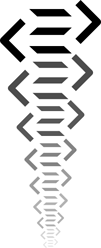 I hope that you don't mind my stupid jokes

It's based on the => and <= for instance constraints and class implications, similar to the way the haskell logo is based on >>=. It doesn't really "mean" anything though, it's just an aesthetically pleasing glyph.

It was designed by Gareth Hughes (a friend of mine) with some direction from @paf311 and me.
Stupid jokes? More like the real answer to this question

If you look at the negative space in the logo (the white part) you will see a right arrow above a left wards pointing arrow somewhat like this.
 >->
<-<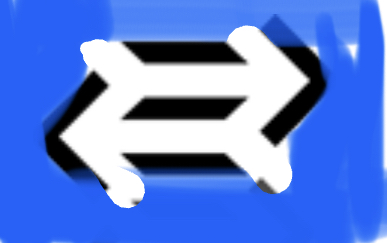 Ah, a secret message! Reminds me of http://www.ecollegetimes.com/5-famous-backwards-messages-on-records

Now I stopped being convinced that this topic is actually [Solved]

"The musiclogo is reversible. Time is not. Turn back, turn back."
Opening and closing tags in the logo look like a reference to HTML and the web.